Did you know that on average, CVs are looked at for 6-7 seconds?!
That statistic alone is terrifying, which is why adding your CV to a recruitment site can help higher your chances of getting your CV seen. But even then – one mistake could cost you that job!
This Halloween, we asked our recruiters for the most frightening CV mistakes they have seen. These are what nightmares are made of…
​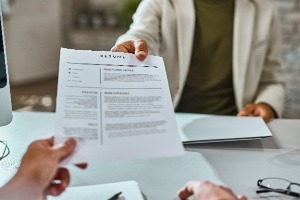 Phoney Phone Numbers
Think you're being ghosted? It's not us, it's you.
When you put your phone number on your CV, double, triple, quadruple check your phone number is correct. Otherwise, we won't be able to let you know you've been selected!
It's spooky how many of our recruiters said this 🤦‍♀️
Senile CV's
You might think that your CV is good enough to get you hired for any job out there. But trust us, it's not.
In today's scarily competitive job market, you need to have a CV that stands out from the rest. And that's why you need to update it regularly.
By having your most up-to-date jobs and qualifications, you allow your best self to shine to the recruiters – and not a ghost of the past!
Freaky Formatting
Did you know that 98.9% of the world's most successful businesses use Automatic Tracking Systems?
Yes, we all know you're creative. But when it comes to your CV, please just stick to the basics. There's no need to get too creative with the format. We've seen it all before - from CVs formatted as posters to CVs with photos of the candidate's pets. And while we appreciate the effort, it's the content that really matters.
Arguably, there are some industries where a groovy CV could be useful, but more often than not your CV will go through a system that automates it into a standard viewing format.
So before you spend hours formatting your CV into a work of art, just remember that the best way to stand out is to focus on the content. Write clearly and concisely, and make sure your skills and experience are front and centre. That's what will ultimately get you the job.
Phantom Dates
If you're like most people, you probably think that the job dates on your CV are not that important. After all, does it really matter when you worked at a particular job? YES.
Job dates on your CV are actually very important, and here's why:
1. They show potential employers that you have a history of stable employment.
2. They help to create a timeline of your work history, which makes it easier for employers to understand your experience.
3. They help to show that you're not a job hopper.
4. They can help to fill in any gaps in your employment history.
5. They give employers an idea of your chronological work experience.
Alienated Jobs
If you're like most people, you probably write your CV with one goal in mind: to get the job you want. But what if we told you that there's a better way to do it?
What if, instead of trying to fit yourself into a job, you wrote your CV to match the job you want?
It sounds crazy, but it just might work.
Think about it this way: when you're writing your CV, you're trying to sell yourself to a potential employer. So, it only makes sense that you should tailor your CV to fit the job you're applying for.
For example, if you're applying for a job as a Finance Assistant, you should highlight your experience in booking and accounting software. If you're applying for a job as a Marketing Executive, you should focus on your communication skills and strategy experience.
​
While October may be the best month for frights, there's nothing more terrifying than making a CV mistake that could cost you a job. Ensure to check over your CV today to give yourself the best chance of securing your dream role!​