​
I'm sure we've now all experienced working from home at some point over the past two (almost three - woah!) years, with many of us now used to a hybrid working week.
How have you found working from home? Would you prefer to always be in the office, fully remote, or a hybrid of the two?
It's an argument that has been passed back and forth for a while now, and it all comes down to personal preference. Whether you've been working from home since 2020 or are new to the 'new way of working', we have helpful tips which may help your work-life balance:
Have a Routine
The novelty of 'working from home' jobs can wear off pretty quickly once it becomes the norm and it's easy to lose your sense of routine when you start spending the whole day in your pyjamas. In order to get into the right mindset each morning, it helps to try and stick to your usual routine as you would usually get ready for work as much as possible.
Create a Workspace
Not everyone has an office that they can use at home, or even a desk to sit at for the day. As much as you can, you should create a workspace for yourself where you have everything you will need to complete the day's tasks. This will further help with getting you into the right headspace to work as efficiently as possible from home.
Check your Internet Speed
If you want to avoid waiting what feels like hours for a single page to load, or the internet dropping out altogether, make sure your workspace is as close to your router as possible. If this still doesn't work, getting yourself an ethernet cable is an excellent idea, your company may even provide one for you.
Reduce Distractions
This is definitely easier said than done, especially if the kids are already climbing the walls by 10 in the morning, but reducing the number of distractions around you whilst you're working will be a huge help when you're trying to stay on track.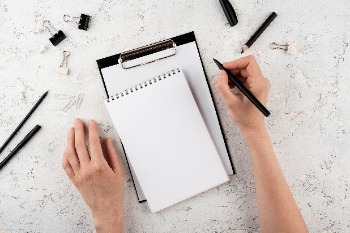 Use Teams/Zoom/Google Meet
Videocalls will be your best friend throughout your time while working from home, especially if you're spending much of the day on your own. Calling a member of your team for a catch-up is far more effective than an email and will keep you in touch with your colleagues who are probably having the same experience.
Not only are video calls a good idea in regard to work but having a non-work-related call with your colleagues at lunchtime or after work will give you some of the same social time that you would usually have in the office.
Overall, working from home isn't for everyone, but the above tips should help make the move from the office to your home a little easier.
​
Want to give Remote or Hybrid working a chance? Check our Job Search page to see our latest vacancies!