​
What does a Business Development Manager do?
In a nutshell, a Business Development Manager (BDM) brings in new revenue and helps increase a company's growth. Depending on the business, this is done by forming a network of clients, creating new ways to reach current markets, and identifying prospective markets.
What does a Day in The Life of a Business Development Manager Look Like?
In the exciting and fast-paced world of sales, a BDM has a variety of responsibilities to look forward to on a day-to-day basis. Whilst the role can vary depending on the company, there are tasks that a BDM will be required to carry out, such as…
Researching Potential Clients
Before a BDM picks up the phone and starts pitching to a potential client, they will need to know who the best person is to speak to.
For example, if you want to help companies decrease their business rates, it would be beneficial to speak to the director, who is most likely to be the decision maker.
By using sourcing software and researching the company, the BDM can be certain that they are reaching out to the most appropriate person rather than pitching to a disinterested audience and losing a sale.
Sending Introductory/Follow-up Emails
Depending on the client, they may ask to discuss potential partnerships via email rather than over the phone or in person. Keeping up with email communication is a key part of the role as it allows the BDM to re-visit potential clients and add any additional information that can help push through their sales.
Cold Calling and Attending Conferences/Exhibitions
Here is where a BDM's confidence and communication skills come into play!
A successful sales pitch draws in a client's attention and convinces them to use the products/services offered.
The BDM's role will require them to have a strong knowledge of what they are selling and be able to answer any questions or objections.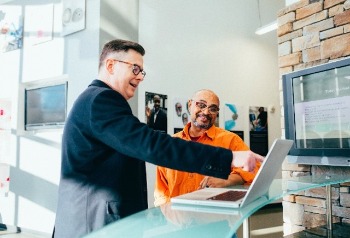 Business Development Manager: The Benefits
Working in sales is a dynamic and exciting role, which requires quick thinking and an aptitude for communicating in a clear and friendly manner.
Each day, when the BDM picks up the phone or heads out to a conference, they are playing a vital role in their company's success. Whilst a BDM's daily responsibilities can be demanding, the commission structure and incentive schemes can make the role more attractive, especially to those with inner competitiveness!
To encourage employees to hit their targets and be invested in the products/services they are selling, some companies offer rewards such as vouchers, team dinners out, and all-expense paid trips abroad.

What are the Progression Opportunities?
Sales is a booming and lucrative market that stretches across a wide range of sectors. As a result, there are numerous roles available to job seekers, ranging from entry-level to director positions.
If you have BDM experience and a knack for successfully driving sales, you will find that a variety of progression opportunities will become available to you, such as…
Team Leader
A team leader will help their team grow and reach their full potential. They are the first point of contact and will give advice, guidance and the tools needed for professional development.
For example, a team leader will listen to their team's sales calls and give individual advice on how to improve pitches and strengthen negotiation skills.
Business Development Sales Manager
A Business Development Sales Manager is a leadership role with the main focus on building partnerships, creating new business strategies and identifying relationships in the marketplace.
Business Development Account Manager
A Business Development Account Manager will be the intermediary between the company and their clients. In doing so, they will be tasked with developing new relationships and maintaining current partnerships by understanding their client's needs and offering expert advice.
Five Key Skills Needed in a Business Development Manager
Resilience
In a career where you will receive a lot of rejection, you must be able to quickly bounce back. Not every phone call or conference will end in a successful sale, and therefore, you need to remain positive and keep persevering despite any setbacks.
Communication
You need to be a confident communicator who has a knack for building strong relationships, negotiating, and expressing information in a precise manner.
Determination
You are someone who can push themselves to smash targets, reach new heights and secure even the most difficult of sales.
Strategic thinking
You have a strong understanding of your audience and can spark their interest by shaping your pitch according to their needs.
In-depth Business Knowledge
You can help clients make business decisions by offering expert knowledge and sharing your professional advice.
​