​
Are you currently looking for your next opportunity?
If the answer is yes, then you must be no stranger to the interview process, but not everyone does all of the preparation necessary to perform well in an interview.
The more you prepare, the more confident you will feel once you're sat in front of your prospective new employers.
We've put together our top preparation tips so that you can be at your absolute best from the very first interview
Research
Make sure you're able to show in the interview that you have an interest in the company and the industry. Carry out some research into the business's competitors and any latest news from their online channels which you can bring up naturally in the interview.
Know your CV
This may seem obvious, and you may think this is unnecessary as surely, you'll know everything on there already? This may be true, but it's important to read over the documents you've supplied to the interviewer as you can anticipate any questions they may ask you about the content. Don't be afraid to make notes on a print-out that you can bring with you, this can give you a helpful nudge when answering questions!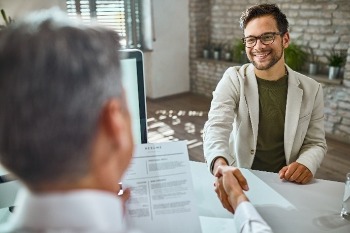 Prepare for common questions
Going over some common interview questions can improve your confidence and ensures you'll be able to get across all the necessary points you want to cover in the time that you're given. If you'd like to look through some common questions, we've created a list to help you prepare on our website.
Always have questions prepared
It's always good practice to have a few questions prepared for the end of the interview. These can be about anything from the team you'll be joining, what you can expect from the role day-to-day, to what training is provided. Having questions ready to ask shows your interest in the role and joining the company, so make sure you have some ready!
Be yourself
Lastly, remember it's just as important within an interview for you to find out if the role and the company is a good fit for you as you would be for the role. It's important to be yourself and use the time to take in as much information as you can about what working for the company would be like, does it make you want to join their business?
​
If you're currently looking for a new position, we have roles available on our website for you to apply for straight away. Take a look at our Job Search and Join Us pages to apply for our current roles, including those within Get Recruited!